Brexit dominates discussions at Legislation Roundtable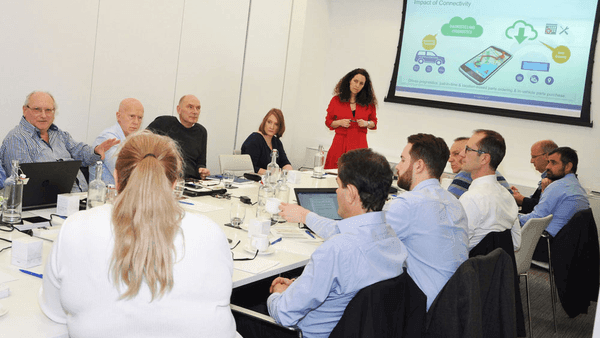 The Legislation Roundtable events that Cognitran hosts twice each year are highly valued by our OEM clients. They are an opportunity for people to understand the coming legislative and technology changes that will shape the future of their aftermarket operations.
The most recent event in December 2017 was organised by Helgard Haas and Mavis Cournane. They were joined by representatives from Jaguar Land Rover, Ford, Kawasaki, JCB, Honda, CEMA, Mahindra, Harley Davidson, Case New Holland and Aston Martin.
Discussions at the Cognitran Legislation Roundtable event Naturally, any discussion about legislation that affects products that can be sold in European markets in future will be overshadowed by the uncertainties of Brexit.
Whether or not you think Brexit is a good thing there are significant practical issues. The process of resolving them is yet to start in earnest and the outcome could have significant impacts for OEMs and consumers.
Mavis Cournane provided a very detailed breakdown of some of the coming legislation affecting cars and trucks that could have a significant impact on the OEM aftermarket. These included possible updates to the regulations for Whole Vehicle Type Approval (WVTA). 'Type Approval' allows broadly similar products to be sold throughout the EU. Without Type Approval, free movement of goods refers to an individual 'good' rather than a type.
There are also proposed updates to Euro 5 standards covering Europe-wide security accreditation, aiming to make vehicle security-related repair information available to independent repairers.
Any changes that could make vehicle systems more vulnerable to unauthorised access are clearly a concern. The additional authentication that may be needed to protect vehicle owners from the port becoming an 'open door' for hackers and thieves - and how all of this relates to the development of 'extended vehicle' platforms - are major concerns.
Post Brexit, the European bodies that will oversee issues such as security standards and authentication will have no legal remit in the UK. How will UK consumers be protected?
Other significant changes in the pipeline are the need for car diagnostic data to be provided to independent repairers along with periodic test inspection data, which previously only had to be provided to test centres. There are also proposals that would require OEMs to provide VIN and OEM part number data to independent repairers, despite there being no clearcut customer benefit from this.
Brexit casts a shadow over all of these discussions. The biggest concern for OEMs and the SMMT is that the UK may no longer be tied to EU Type Approval for new products. Discussions between the UK and EU to date have not considered the concept of a 'type' of good. Also, how would Type Approval actually be managed, post Brexit?
If the UK simply mirrored EU regulations they would have to accept the jurisdiction of the European Court of Justice, which may not be palatable. There may also be a 'legislative lag' as EU regulations are written into UK law.
If OEMs had to seek separate UK specific type approval it is highly likely to result in reduced choice for UK consumers. It would be hard to make a business case for approving niche or technically advanced products specifically for the UK market.
Legislation affects not just cars, but trucks, agricultural and construction vehicles, and motorcycles. The implications are significant and even a two year transition may not be long enough to sort out the details.